The perfect way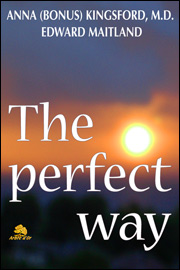 According to classical legend, the Goddess Athena had once for votary a fair virgin named Medusa, who, becoming vain of her beauty and weary of the pure service of the maiden Goddess, introduced folly and defilement into the very sanctuary of the Temple in which she was wont to worship. Thereupon a terrible fate overtook her.

The beautiful face, which had been the cause of her fall, assumed an aspect so terrible as to blight and petrify all who looked upon it; her tresses, once the chief object of her pride, were changed into vipers and the hands which had ministered to heaven became as the talons of a bird of prey. Thus transformed into a Gorgon, she brought forth monsters, and for a time devastated the earth.

At length the hero Perseus, "Son of God," commissioned by Athena and Hermes, and armed by them with wings and sword and shield, slew the terrible creature, and smote off her venomous head. This exploit, — itself fraught with great perils, — was followed by the achievement of another not less difficult.

Andromeda, daughter of the aethiopian king, being doomed to become the prey of a dragon which long had ravaged her father's coasts, was already chained to a rock on the seashore and on the point of being devoured, when Perseus, — divinely guided to the scene of the intended sacrifice — vanquished the Dragon and delivered the princess. And, having won her love and espoused her, the son of Zeus bore her away from her father's kingdom into heaven, to shine forever beside him, redeemed, immortal, and glorious.